Training Program
The MHiPS Training Program comprises an Induction session, three core modules: Mental Health Literacy, Building Capacity, Supporting Need, and a Community of Practice, with a combination of asynchronous online learning and synchronous seminars. Synchronous sessions are designed for online delivery to facilitate access for regional and rural schools and to efficiently respond to the current COVID context; however these sessions can be readily delivered in a face-to-face or blended capacity.
The instructional design and delivery is based around a participant centred, problem-solving approach that preferences teaching the 'doing' of the role over 'telling' participants what they need to know. It draws on the learner's existing knowledge and experiences adapting for differentiated learning. The training is also couched in a collaborative framework where self and peer evaluative and reflective practice is embedded both during and post-training. This approach develops and builds professional judgment and reasoning skills.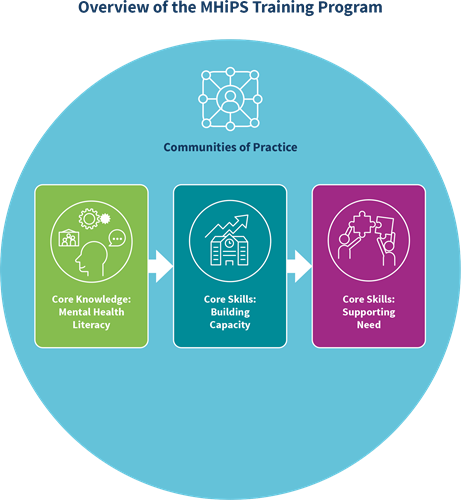 Module 1: Mental Health Literacy is a fully online learning module focused on foundational knowledge about child mental health and wellbeing, with the aim of increasing child mental health literacy.
Module 2: Building Capacity aims to build whole school capacity in mental health and wellbeing, and comprises both online learning and synchronous seminars. In these seminars, MHWLs learn to assess the wellbeing profile of their school, create a mental health and wellbeing plan and use evidence regarding programs and approaches to inform their decision-making as part of the cycle of inquiry that supports their plan.
Module 3: Supporting Need includes seminars covering identification of mental health and wellbeing concerns, basic screening and assessment processes and, how to support colleagues in the classroom, manage referrals and work with parents and families.
Communities of Practice is designed to deepen the learning from the first three modules, with sessions held monthly throughout the year. Communities of Practice provide a space where MHWLs can connect, share experiences, access experts in mental health and wellbeing, and strengthen professional knowledge and networks. Delivery includes both MHWL and MGSE-led sessions, with example content including case presentations, relationship skills, privacy and confidentiality, and self-care.
Included alongside all modules are readings, discussion boards, additional resources, and tools to support the MHWL role.
Proudly in partnership with
MHiPS would like to acknowledge the Ian Potter Foundation and the Helen Macpherson Smith Trust, SALT Catalyst, Bupa, the RE Ross Trust and the R.M. Ansett Trust for their support in establishing the program.