Children's Wellbeing Continuum
Published

Monday, May 30, 2022 - 9:30 AM
The draft Children's Wellbeing Continuum is a tool that uses simple words, colours and icons to visually communicate children's mental health across a continuum.
The four anchor points of the draft Children's Wellbeing Continuum range from Good through to Coping, Struggling and Overwhelmed.
The Continuum is designed to be an accessible tool that supports conversations about children's wellbeing. By enabling parents, teachers and children to more easily discuss and reflect on wellbeing, it helps to support improved health literacy, and early identification and action when children are struggling.
The Continuum was developed using a three-phase study including a literature review, Delphi studies and user testing. It has potential to play an important role in reducing stigma, facilitating the early detection of children who are struggling, and organising appropriate supports to prevent their progress to more serious mental health problems. 
The Children's Wellbeing Continuum is funded by the National Mental Health Commission.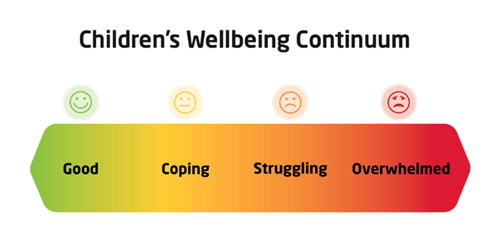 You might like to take a look at some of these related resources:
Proudly in partnership with
MHiPS would like to acknowledge the Ian Potter Foundation and the Helen Macpherson Smith Trust, SALT Catalyst, Bupa, the RE Ross Trust and the R.M. Ansett Trust for their support in establishing the program.